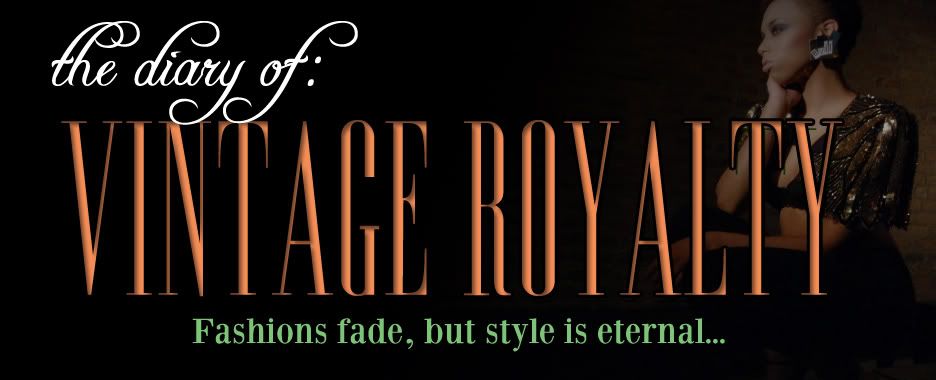 Meena Osei-Kuffor and I go way back. Back as far as 2004/2005...God I'm old... Before I started writing this introduction of sorts, I tried really hard to remember how I first met Meena, but because I'm getting up there in age I decided to do what I do best...so I guessed.
Although I can't accurately remember when we first spoke to one another, I CAN remember when I first laid eyes on her. It was sometime during my first few days as a lonely freshmen at Kent State University. Meena walked out the "Hub" (the local melting pot), this ball of style, confidence, and grace. She stood out like that one stray chocolate sprinkle that finds it's way on a mountain of vanilla ice cream, just begging to be looked at. There was something so surreal about her. Some would have said it was her outward appearance, but I don't think that was it. She had a certain air about her, one that hadn't, and to this day still hasn't, been matched by anyone I've come in contact with. It's like back in the days we were in college, she knew that Kent was just a necessary pit stop she had to make in order to fuel her wildest dreams.
Although college is behind us, and we've both gone our separate ways, Meena and I have forged the sort of friendship that is bigger than what we had at Kent. I've come to appreciate her as an artist, a businesswoman, and a hustler. Her blog
Gossip Me Style
is something I check out everyday, and her accessories line
Vintage Royalty
is both innovative and utterly amazing... like nothing I've ever seen before.
Naturally I had to get the skinny on what Meena's been up too, her inspirations, her fears, and her thoughts on the state of the fashion indusrty today....
___________________________________________________________________________
Tell me a little about yourself. Where you hail from, past and present involvement with blogging and fashion as well as what you do now.
Meena

:
I'm from Chicago, born and raised. I love fashion and everything about it. I've had magazine subscriptions since I was probably 11.... dreaming one day of styling the pages of these magazines. I started blogging because it just felt like a natural step to take. I have no prior experience in blogging, but I follow many blogs to keep me in the know. I currently have one blog, Gossip Me Style. I do have a few new ones in the works...
How did you get started in the blogging business and how long have you been at it?
Meena

:
I started blogging last year. I guess I just woke up one day and said, Why the fuck don't you blog? And it went from there.
..
What was your motivation for starting up Gossip Me Style?
Meena
:
My motivation was seeing these ferrible
(fucking + terrible = FERRIBLE.)
blogs out there. I was like, I can do this so much better, so I gave it a shot. Guess you could call it a form of hater-a-tion, but whatever...
Who is your core audience?
Meena
:
With

Gossip Me Style

, my core audience is young adults, ages 21-29 who currently have many side hustles as well. They work all day, party and entertain at night, and fit their hobbies in whenever they can. My audience reads my blog as they check their business and personal emails. If they need to be informed, and have a good laugh, they'll tune in.
Who are some of your favorite bloggers and what blogs do you read on a regular basis?
Meena

:
The Cut: Fug Girls; Lateboots.com: Marcus Phifer and Sham; Trenddoll.com; Diary of a Broke College Student (you make me laugh), and C.O.C.A. I read The Cut and Lateboots...Everyday...
If you could write a guest post for any blog what blog would it be?
Meena
:
The Cut, hands down. I think those girls have a ripe sarcasm about them that would be right up my alley.
Do you, or have you ever written or blogged for any other websites or magazines?
Meena
:
I haven't blogged for anyone else, but I have written for a few online magazines including: Vibe Vixen, Hip Hop DX, Evil Collector, Emergingthoughts.com (DIY writer), Spanglishmagazine.com, and I have many more in the works.
Can you give me the link to your favorite blog post you've done. Doesn't have to be popular, just your favorite.
Meena

:
I have two, and I wrote them in the same day (January 30). I think I was in a goofy mood, true Meena Mode. The first is called, "Hail King Louis" and the other: "Lady & the Tramp". I like to read those when I want a good laugh.
Any side hustles to speak of?
Meena

:
Besides working 2 jobs and blogging, I am a freelance stylist and a accessories designer for a company I started called Vintage Royalty. I think I'm on the verge of something when it comes to my earrings. I've only been doing it for about 9 months and it's creating a lot of buzz. I also started throwing fashion shows, my first one is coming up soon. Keeps me pretty busy.
So how did the idea for Vintage Royalty come about?
Meena:
I'm not sure really. I use to work at the Art Gallery on campus (Kent State University) and use to meet all these artists and creative people. One day this girl had on these earrings and I asked where she got them. She said Japan and they were made of paper. I think a light bulb went off...I went to JoAnn Fabrics and went to work. It took about 2 or so years to come up with the ones you see today however.
About how long does it take for you to create one pair of earrings in your collection?
Meena:
Well if I'm making a brand new pair, it can take awhile to figure out what I want it to look like. But honestly it is all the layers of glue and hardeners that take forever. Sometimes if I have a big order, I just put on a layer and then go back to sleep. One time I did that from 4am - 10am...it was rough.
Who are the designers that have inspired you most in the past?
Meena:
Oh my God. I still get inspired by Marc Jacobs. The head accessories designer for Louis Vuitton is fucking ridiculous too. The shit she comes up with...Stella McCarteny I love, and the art and other accessories I stumble on inspire me the most.
In your mind, what kind of woman wears Vintage Royalty products?
Meena:
I like that question. I think I get a lot of different types of women. But mostly you have to have confidence. These earrings can be overwhelming if you're not careful. If you think too hard about them, you'll never wear them. You have to just throw them on and go. I get a lot of orders for photo shoots and fashion shows too. But the girls that wear them on an average day are my true customers. And as you know, each pair of earrings have their own personality. There's one for everyone. Bold, creative, unique, loud, and strong fashion girls.
In your opinion what is the hardest thing about being a business owner?
Meena
:
Well, I was just talking to my Dad about this the other day...Time is my hardest battle. It's difficult for me because I'm creating the shit and selling the shit; I am 100% of the business. And I have to know both sides. I have sooooo many ideas, but sometimes I can't get to it as soon as I want too because there's so much going on. And when you first start out, you don't really make that much money so you have to keep your day job. I'm exhausted...
Also, what is the best thing?
Meena
:
The best thing...knowing one day that this business is going to put me right where I want to be. I think I've stumbled upon something great, and that excites me more than anything. I wonder how far it will go?
What are your views on the fashion industry today?
Meena
:
The fashion industry: I think creativity is at an all time high. Designers, stylists, and whoever else are getting crazy as they want and people are eating it up. I think it's wonderful! Fashion is #1 on everyone's mind right now. I know 12 years ago when I told people I wanted to be a fashion designer, a lot of people looked at me like WTF?! But teens these days can go to fashion camps and intern at 16 years old and go to places like Forever XXI and go crazy. And that's great, I love it.
I know people probably expect me to talk about the high end, ready to wear fashion, but I believe it starts here. It starts when you're little and you have big dreams. I'm so excited about the future of fashion. Big and small.
If I asked a friend to describe you, what would they say?
Meena
:
Oh boy...LOL. I'm not sure what they'd say. I think they would probably laugh to themselves before they answer the question. And the first thing they would say is that I'm crazy. After that, they might mention that I'm also an ass. I keep them entertained.
Where do you see yourself in 5 years?
Meena
:
In New York, working at a fashion magazine. Side hustles becoming apart of my income.
Any upcoming events or news you'd like to share with us?
Meena
:
Well, I have this huge fashion show coming up in like two weeks that I put together with one of my best friends. It's going to be a big deal. The earrings are growing, slowly but surely. I may be in Complex Magazine, but it's too early to tell.
So my next step is trying to figure out my next move. I have lots of ideas stuck up there. Stay tuned for fabric earrings incorporated with the paper ones. I'm exploring brooches/ pins a little more, plus these fashion boys keep trying to get me to make them some earrings, so I'm looking into making some for guys. They're jealous ladies...
And much much more...